History of Rotary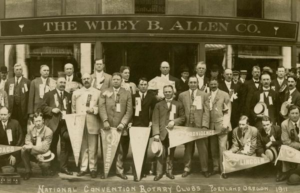 For more than 110 years, Rotary members have been addressing challenges around the world. Grassroots at the core, Rotary links 1.2 million members to form an organization of international scope. It started with the vision of one man — Paul Harris. The Chicago attorney formed the Rotary Club of Chicago on 23 February 1905, so professionals with diverse backgrounds could exchange ideas, form meaningful, lifelong friendships, and give back to their communities. On 23 February 1905, Paul P. Harris, Gustavus Loehr, Silvester Schiele, and Hiram E. Shorey gathered in Loehr's office for what would become known as the first Rotary club meeting. Harris's desire for camaraderie among business associates brought together these four men and eventually led to an international organization of service and fellowship. Read about each of the first four Rotarians below, and about Harry L. Ruggles, who is often called the "fifth Rotarian." Rotary's founder, 
Harris
, was born in Wisconsin, USA, on 19 April 1868. He was raised by his paternal grandparents in Vermont and attended the University of Vermont, Princeton, and the University of Iowa. He was Rotary president from 1910 to 1912 and a member of the Rotary Club of Chicago until his death on 27 January 1947. Learn more 
about the founder
.
Loehr
, a mining engineer, was born on 18 October 1864 in Carlinville, Illinois. He was a Rotarian for only a few years, never holding office at the club or international level. But that first Rotary meeting was held in his office, Room 711 of the Unity Building in downtown Chicago. He died in Chicago on 23 May 1918. A Rotarian for only a few years, 
Shorey 
served as recording secretary during the club's first year. He was born in Maine in August 1862 and died in March 1944.
Schiele
, a coal dealer, served as the Chicago club's first president in 1905 and Rotary International's third treasurer in 1945. Born in Terre Haute, Indiana, in June 1870, Schiele attended Terre Haute Business College and served in the U.S. Army during the Spanish-American War. He was president of the Schiele Coal Company from 1902 until his retirement in 1939. He and Harris became lifelong friends and lived near each other on the South Side of Chicago. Schiele died on 17 December 1945 and is buried near Harris at Mount Hope Cemetery. Originally from Michigan, 
Ruggles 
was a graduate of Northwestern University in Evanston, Illinois, and joined Rotary at its second meeting. He was treasurer of the Chicago club during its first year, president from 1908 to 1910, and a Rotary director from 1912 to 1913. He is known for having introduced singing to Rotary club meetings. His printing company, H.L. Ruggles & Co., printed the first issue of 
The National Rotarian 
and the first Rotary songbook. He died on 23 October 1959, an honorary member of seven clubs in addition to his home club, the Rotary Club of Chicago. Rotary's name came from the group's early practice of rotating meetings among the offices of its members.
"Whatever Rotary may mean to us, to the world it will be known by the results it achieves." – Paul Harris, Rotary founder
$ 26.

5

0: 

The amount of the first donation to The Rotary Foundation in 1917
$ 

5

00.0

0: The Rotary Foundation's first gift, made to the International Society for Crippled Children in 1930
Our ongoing commitment
Rotary members have not only been present for major events in history — we've also been a part of them. Three key traits have remained strong throughout our history: We're truly international. Only 16 years after being founded, Rotary had clubs on six continents. Today, members in nearly every country work to solve some of our world's most challenging problems. We persevere in tough times. During World War II, Rotary clubs in Austria, Germany, Italy, Japan, and Spain were forced to disband. Despite the risks, many continued to meet informally, and after the war, Rotary members came together to rebuild their clubs and their countries. We're committed to service, and we're not afraid to dream big and set bold goals. We began our fight against polio in 1979 with a project to immunize 6 million children in the Philippines. Today, polio remains endemic in only three countries — down from 125 in 1988.
Notable Rotarians
Rotarians are your neighbors, your community leaders and some of the world's greatest history-makers:
Warren G. Harding, U.S. president
Jean Sibelius, Finnish composer
Dr. Charles H. Mayo, co-founder of Mayo Clinic
Guglielmo Marconi, Italian inventor of the wireless radio and Nobel laureate
Thomas Mann, German novelist and Nobel laureate
Friedrich Bergius, German chemist and Nobel laureate
Admiral Richard E. Byrd, American explorer
Jan Masaryk, foreign minister of Czechoslovakia
H.E. Soleiman Frangieh, president of Lebanon
Dianne Feinstein, U.S. senator
Manny Pacquaio, Filipino world-champion boxer and congressman
Richard Lugar, U.S. senator
Frank Borman, American astronaut
Edgar A. Guest, American poet and journalist
Sir Harry Lauder, Scottish entertainer
Franz Lehar, Austrian composer
Lennart Nilsson, Swedish photographer
James Cash Penney, founder of JC Penney Co.
Carlos Romulo, UN General Assembly president
Sigmund Sternberg, English businessman and philanthropist
Rotary is made up of three parts: our clubs, Rotary International, and The Rotary Foundation. Together, we work to make lasting change in our communities and around the world.